Deeda has literally grown up on horses. Her father, a rancher, veterinarian, and back-country guide in northwestern Wyoming, started her in a saddle at a very early age. Her interest in classical riding began under the instruction of one of the first English riding instructors to teach in Jackson Hole in the early 60's. She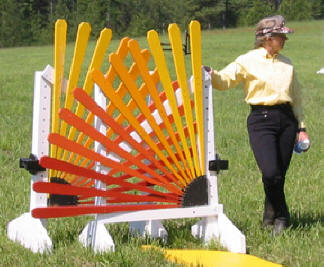 expanded her horsemanship skills working as a groom for members of the Jackson Hole Polo Club. After graduating high school, she traveled to Waverly, West Virginia to attend the Meredith Manor School Of Horsemanship and received an Associate Degree in 1974. She went on to earn a B.S. of Microbiology in 1979 and a M.S. in Animal Science in 1996 at the University of Wyoming in Laramie. In addition, she has attended the Colorado State University Equine Artificial Insemination Short Course in 1990 and 1991. Deeda has served as a USA Equestrian Licensed "r" Eventing and Dressage Technical Delegate since 1984. She became a licensed Eventing Judge in 2001 and in January of 2003 became a licensed "R" Dressage Technical Delegate.
Deeda served as horse trainer, instructor and stable manager for a noted Morgan horse ranch near Laramie, WY for 14 years. Her responsibilities included training all of the horses to ride or drive, showing, instructing dressage, jumping, and western riding; and managing health records, shoeing, and breeding on the sixty plus horse operation. During this time she won numerous honors and coached her daughter, Kari, to top national honors in hunt seat equitation at both the Canadian National Morgan Horse Show and the Grand National Morgan Horse Show.`
Constantly looking for ways to keep the sport of eventing active and viable within the intermountain area, Deeda is an active member of the Area IX United States Eventing Association. She currently serves on the Board for Area IX and has served as Chairman of the USEA Area IX for one term and President of the MSEA for five years. After nine years of serving as Organizer of the Colorado Horse Park Spring CCI**/* Events and National Horse Trials, the One Day Beginner Novice thru Preliminary August Horse Trials, and the Fall CCI*, Training 3-Day Event and National Intermediate thru Beginner Novice Horse Trials she retired in October of 2011 to pursue new avenues in her equestrian career.